All India Coordinated Research Project on Management of Salt Affected Soils and Use of Saline Water in Agriculture
Historical Background 
The All India Coordinated for Research on Use of Saline Water in Agriculture was first sanctioned during the Fourth Five Year Plan under the aegis of Indian Council of Agricultural Research, New Delhi at four research centers namely Agra, Bapatla, Dharwad and Nagpur to undertake researches on saline water use for semi–arid areas with light textured soils, arid areas of black soils region, coastal areas and on the utilization of sewage water respectively. During the Fifth Five Year Plan, the work of the project continued at the above four centers. In the Sixth Five Year Plan, four centers namely Kanpur, Indore, Jobner and Pali earlier associated with AICRP on Water Management and Soil Salinity were transferred to this Project whereas the Nagpur Center was dissociated. As the mandate of the Kanpur and Indore centers included reclamation and management of heavy textured alkali soils of alluvial and black soil regions, the Project was redesignated as All India Coordinated Research Project on Management of Salt Affected Soils and Use of Saline Water in Agriculture. Two of its centers located at Dharwad and Jobner were shifted to Gangawati (w.e.f. 1.4.1989) and Bikaner (w.e.f. 1.4.1990) respectively to work right at the locations having large chunks of land afflicted with salinity problems. During the Seventh Plan, the project continued at the above locations. During Eighth Five Year Plan, two new centers at Hisar and Tiruchirapalli were added. These Centers started functioning from 1st January 1995 and 1997 respectively. During the XI Plan, Project continued at these centers with the Coordinating Unit at Central Soil Salinity Research Institute, Karnal.
Cooperating Centres with Addresses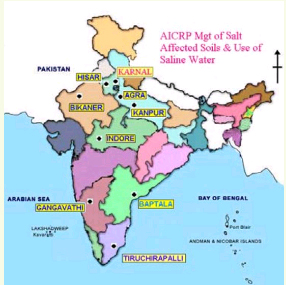 R.B.S. College of Agriculture, Bichpuri, Agra–283105 (Uttar Pradesh)

Regional Research Station, Acharya N.G. Ranga Agricultural University, Bapatla–522101 (Andhra Pradesh)

Agriculture Research Station, Rajasthan Agricultural University, Bikaner–334002 (Rajasthan)

Agricultural Research Station, University of Agricultural Sciences, Gangawati, Koppal–583227 (Karnataka)

Department of Soils, Agriculture College, CCS Haryana Agricultural University, Hisar-125004 (Haryana).

Agricultural College, J.N. Krishi Vishwa Vidyalaya, Indore–452001 (Madhya Pradesh)

Agriculture College, C.S. Azad University of Agriculture & Technology, Kanpur–208002 (Uttar Pradesh)

AD Agriculture College & Research Institute, Tamil Nadu Agriculture University, Navalur, Kuttapattu, Tiruchirapalli–620009 (Tamil Nadu)
Mandate of the Project
Survey and characterisation of the salt affected soils and ground water qualityn commands.

Develop standards/guidelines for assessirrigation waters

Evaluation of the effectsters on soils and crops

Develop management practices for utilization of watersty/ alkalinity and toxic ions

Develop and test the technology for the conjunctive use of poor quality waters in difcal zones/major irrigation commands

Develop alternate land use strategies for salt‑affected soils (Agro-forestry,i-enterprise, medicinal  aromatic plants etc.).

Screen crop cultivars and tree species appropriate to salinity and alkalinity soil conditions
Table 1. Mandates for each of the Cooperating Centres of the Project
Agra

1. Water quality limits in relation to cropping system
2. Develop strategies for conjunctive use of saline and canal water
3. Improving the nutrient use efficiency in saline environment
4. Improved irrigation techniques and salt water management
5. Rain water management for salinity control
5. Alternate land use through agro-forestry and horticulture
6. Operational research for saline water use

Bapatla

1. Crop‑water production functions with saline water in coastal sands
2. Water quality limits with improved irrigation technologies
3. Improved Dorouv technology
4. Upconing problems of sea water in coastal sandy soils
5. Fertility management of saline coastal sandy soils.
6. Operational research on dorouv technology/saline water use
7. Reclamation of abandoned aqua ponds

Bikaner

1. Water quality surveys
2. Salt and water balance in gypsiferous soils of the IGNP Command
3. Irrigation management for saline water use
4. Drainage for control of salinity and water logging
5. Develop practices for use of nitrate and fluoride rich waters
6. Nutrient management of saline gypsiferous soils

Gangawati

1. Performance evaluation of drainage system in T.B.P. command
2. Reuse of drainage effluents/conjunctive use
3. Drainage requirement of crops in saline black soils
4 Performance of tree species in saline black soils including bio-drainage
5.Organic materials for improving productivity of saline soils
6. Tolerance of medicinal and aromatic plants to soil salinity
7. Reclamation of rain fed alkali lands

Hisar

Conjunctive use of canal and saline ground/drainage waters
Water production functions under salt stress conditions
Water quality guidelines for sprinklers/drip systems
Modelling crop yields under salt stress and strategies for mitigation
Management of alkali water for vegetable production

Indore

1. Management of heavy textured alkali soils
2. Crop‑water production functions for alkali black soils
3. Develop parameters for incorporating the effect of Cl/SO4, Mg/Ca and SAR on sodication and soil permeability
4. Hydrosalinity modelling in Omkareshwar Command
5. Alternate land use of alkali black soils for agro-forestry
6. Tilerance of medicinal and aromatic plants to soil alkali stress
7. Management of wastewaters

Kanpur

1. Water treatment techniques for use of alkali water
2. Conjunctive use of alkali and canal water
3. Performance of tree species in alkali soils
4. Fertility management under conditions of alkali water use
5. Soil/ land/ water resource inventories in Ramganga/ Sharda Sahayak Command
6. Resource conservation technologies for alkali soils
7. Salt tolerance studies on crop cultivars

Triuchirapalli

Mitigation strategies for adverse effects of salts on soil and crops
Conjunctive use of poor quality ground and canal waters
Survey of poor quality ground waters and salt affected soils
Alternate land use of salt-affected soils through agro-forestry
Multi-enterprise agriculture for higher income
Use of Distillery Spent wash for alkali land and water reclamation

Net work trials

1. Identification of appropriate cultivars of crops for saline/alkali environments in different agro‑ecological regions
2. Water quality/salt-affected soil resource inventories/mapping

Coordinating Unit

1. Developing guidelines on use of saline water
2. Use of saline water in agro-forestry
3. Modelling salt and water transport and crop response in saline environment.
4. Generating chemical/physical parameters for computers models
5. Management of domestic and industrial wastewaters
6. Bio-drainage and wastewater disposal strategies
7. Management of ad-hoc projects approved by the council
Achievements:
Karnal
Generalized National Guidelines on characterization of saline/alkali waters

Package of practices for use/and disposal of waste water

Alternate land management (identification of trees & crops)

New guidelines for alkali water prepared and would be discussed in a group meeting for finalization of their use in place of old guidelines

Conjunctive use strategies for arable crops made available. It has emerged that cyclic use is slightly superior to blending, fresh-saline cycle is superior over saline-fresh cycle (policy implications)

Subsurface drainage technology for reclamation of waterlogged saline soils perfected

It has been demonstrated that Eucalyptus and poplar could be used to dispose off sewage water with minimum environmental hazards. Flower cultivation with waste and toxic water has the potential to avoid contamination of the food chain.

Generic solutions/practices based on crop selection, soil management, irrigation water management, rainwater management finalized, which with location specific improvements could be used for irrigating crops with saline water

To reclaim tsunami affected lands, it was established that gypsum application is not needed. Provision of one way sluice gate is essential for drainage. On-farm water resource generation activities initiated and designs prepared to meet the requirements of a multi-enterprise model.
Agra
Characterization of ground water of Agra/Mathura and adjoining areas of Rajasthan

Finalized seasonal/annual/long-term conjunctive use modes for saline and alkali water

Potential of drip irrigation for use of saline water for vegetable crops established and benefits against surface irrigation quantified

Low cost agronomic interventions finalized

Low cost recharge technique for aquifer dilution developed

Technologies to mitigate the adverse effects of high SAR watetr through surface drainage, application of amendments and FYM established

Transferred technologies through ORP in Agra/Bharatpur region
Bikaner
Generated database on ground water quality and preparation of water quality maps
Establishment of critical limits of irrigation water salinity under sprinkler for some major crops of area
Subsurface drainage for management of waterlogged saline lands
Development of management technologies for use of high RSC water through sprinkler
Salinity tolerance of vegetables under drip irrigation
Identification of cotton/mustard varieties for salinity tolerance under drip and flood irrigation.
Irrigation scheduling of ber with saline water under drip
Documentation of fluoride rich waters of Nagaur Tehsil
Bapatla
Ground water quality map of AP prepared; benchmark sites monitored
Improved doruvu technology made available
Performance evaluation of subsurface drainage in Krishna Western Delta
Reclamation of abandoned aqua ponds
Reclamation of black alkali soils
Management of high RSC waters
Modified jerry developed
Established potential of drip with poor quality waters for vegetables
Gangavati
Survey of ground water quality of Karnataka
Water management for prevention of rise in water table
Subsurface drainage technology
Bio-interceptor drainage
Reclamation of rain fed alkali lands through in-situ rainwater conservation using tied ridges
Salinity tolerance of crops specifically the aromatic and medicinal plants
Hisar
Groundwater quality survey of four districts completed

60 genotypes of wheat, 31 of cotton, 23 of mustard, 24 of oat, 11 of sorghum tested for their salinity tolerance

The synergy of FYM @ 20 t/ha and gypsum @ 100 per cent neutralization of RSC could be used to cultivate vegetable crops with alkali water

The crop quality studies revealed that with application of FYM and gypsum, the crop quality in sodic water irrigated crops improves and is almost of the same quality as that with canal irrigation

Modeling for salinization/deslainization of the soil profile under conjunctive use has been accomplished using HYDRUS-ID

Sprinkler irrigation with sodic water showed a significant increase in the yield with the increasing depth of irrigation water and gypsum application.

For technology transfer, demonstrations on amelioration of sodic soil and use of sodic water in crops were conducted at the farmers' fields. CSSRI salt tolerant wheat and mustard varieties were also demonstrated under this situation
Indore
1.05 lakh ha area delineated as salt affected in 5 districts of northern M.P. through Remote Sensing and developed the maps.

Groundwater quality survey of Datia, Gwalior, Morena, Sheopur, Bhind and Mandsaur district was completed and maps generated

Amelioration of sodic soil through spent wash (Distillery Effluent) demonstrated

Raised and sunken bed system (1:1 ratio of bed width 7.5 m) is suitable for reclamation of black alkali soils. It conserves water (50 %), soil (95 %), nutrients (90 %). The B:C ratio is 1.96 on 5 years basis.

Irrigation with embedded pipes of 100 mm dia and 40 cm depth found the best for irrigating fruit trees under alkali environment

Plantation of Marvel, Para and Karnal grasses for a period of 3-4 years resulted in reduction of ESP to the tune of 15-20 units. Saved gypsum to the tune of 10-12 t/ha.

Azadirachta indica and Prosopis juliflora found suitable tree species under sodic environment.

It has been proved that ESP > 10 is critical beyond which physical properties starts deteriorating

Application of fine powder of pyrites at soil surface keeping moisture content at field capacity for a period more than a week followed by flushing / leaching is effective for reclamation of sodic Vertisols

Wastewater characterization and management technologies developed
Kanpur
Tiruchirappalli
Potential of using high RSC water by passing through 15 cm gypsum bed established
Screening of vegetable hybrid/varieties and varieties of mustard for alkali environment carried ou
Groudwater survey of Unnao,Kanpur and Fatepur district
Water quality map of Tamil Nadu prepared
Salt affected soil map of Tiruchirappalli District generated
Salt tolerance limits of crops and vegetable crops identified
Sodic soil reclamation technology using distillery spent wash (DSW) finalized and demonstrated
Alternate land use system under rain fed alkali soils: agro-forestry
Drip irrigation to vegetables in alkali soil using amended alkali water
Monitored adverse impact on land and water resources due to tsunami