Agromet Observatory was established at CSSRI, Karnal on 1 January 1972 and is located in the CSSRI Experimental Farm at 29° 43′ N latitude, 76° 58′ E longitude and 245 m elevation above the mean sea level. It is Class-A Observatory and the following parameters are recorded twice a day (07:22/8:30 and 14:22 hours IST):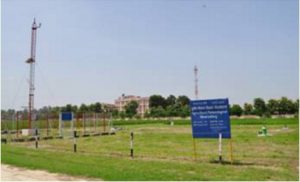 Air temperature- minimum and maximum
Air relative humidity
Vapour pressure
Rainfall
Evaporation
Sunshine hours
Wind speed and direction
Soil temperatures at 5, 10 and 20 cm depths
Minimum grass temperature
Weather data from January 1972 to current date are archived into a Weather Database in the Agro-met Lab and are available for sale at the approved price rate to only research and educational purposes of Govt/University/Other organizations.Daily weather data are supplied at free of cost to print radio and television media for further transmission to farmers for planning of agricultural operations/activities.
 Rate of Supplying meterological data to different organizations.