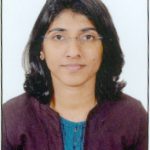 Scientist (On Study Leave)
Central Soil Salinity Research Institute (CSSRI), Indian Council of Agricultural Research
Karnal, Haryana (INDIA) 132 001
E-mail       : bhagya.vijayan@icar.gov.in, bhagyavijayan11@gmail.com
Academic qualification :
M.Sc (Agricultural Extension), 2015 (University of Agricultural Sciences, Bengaluru)
Current position and past affiliation(s) :
Scientist, Division of Technology Transfer and Evaluation (since 21.07.2018)
Priority research areas of interest :
Information Empowerment among farmers in the era of Information Communication
Technology
Status, Accesss and Impact of Agricultural Development Programmes
Sociological Study of Farming Society
 Research publications :
Bhagya Vijayan, N.R. Gangadarappa and Supriya D. 2016. Impact of KISSAN Kerala on Information Empowerment of Farmers of Kerala. Journal of Global Communication. Volume 9, ISSN (online) 0976-2442.
Bhagya Vijayan, N.R. Gangadarappa and Aswathy ChandraKumar.2017. Constaint Analysis of Kissan Kerala User Farmers in utilizing multimodal delivery services. Indian Journal of Extension Education. 53, No. 2, (132-134).